Nightmare At Gravity Hill
Nightmare At Gravity Hill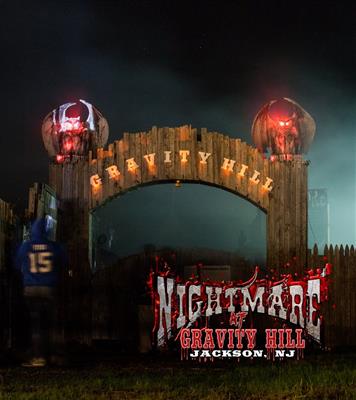 YOU CANNOT WAKE FROM THIS NIGHTMARE
There have been many explanations as to why cars are pulled uphill against the forces of gravity at our farm. Gravity Hill has been featured in Weird NJ, and you may have also seen one of the many YouTube videos displaying Gravity Hill's strange phenomena at work. Come explore the abandoned Ghost Town of Gravity Hill, its Graveyard and its Haunted Fields. Experience for yourself all the other worldly powers that make up the curse of Gravity Hill, featuring an extensive cast of terrifying ghouls, zombies, creepy clowns and other denizens of the night. Our amazing haunted walkthrough will change the way you sleep at night... or make sure you never sleep again!

WHAT TYPE OF EVENT IS NIGHTMARE AT GRAVITY HILL?
As you enter the gates of Gravity Hill, the nightmare begins... you will find over a dozen different scenes/settings spread out over 5 acres. 35 minutes of spine-chilling walk-able haunted trails and creepy themes & adventures. This is not a hayride where you can hide from the creatures of the night, so wear comfortable shoes in case one of them takes a liking to your scent and decides to keep you!
Check back as the Halloween season approaches for schedule and tickets!
Share Your Review
Have you experienced Nightmare At Gravity Hill?
If so, then please considering taking a moment to share your review below.