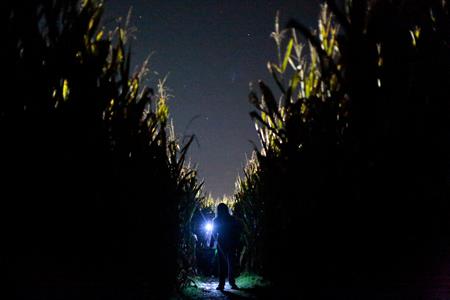 Flashlight Corn Maze,
The Corn Maze isn't challenging enough? How about we make it a little more interesting… Experience our corn maze in total darkness! All you need is a flashlight and a few friends. Please note: Bring your own flashlight. We do not provide flashlights! However, we do have flashlights available for purchase. ( flashlights available for purchase)

Zombie Invasion Shootout Hayride
The Zombie apocalypse has come to V & V Adventure Farm. Help save the farm by joining the "hunt". We have built a zombie destroying trailer and a special kind of weapon and ammo to stop these flesh eating zombies. Help us contain the infestation. Join us today and help us save the world!
The zombies will not be shooting back at you. The guns are mounted to arcade like swivels so you cannot shoot your neighbor and they cannot shoot you. You cannot bring any of your own ammo. We will supply everything you need. Age limit: We recommend ages 10 and up. Children younger than 10 years may not be able to reach the mounted guns. For your safety, no lap riding is allowed.

Jersey Devil Haunt
The moonlight is your only guide through the 10 foot cornstalks that surround you on a trail that has pure terror around every corner you walk. So what is your worst nightmare: Zombies? Clowns? Chainsaw madmen? The Jersey Devil?. Experience all your worst fears as you journey through this cornfield encountering different themed scenes that will test you in every way. It's sure to make you scream!
Check back as the Halloween season approaches for schedule and tickets!
Share Your Review
Have you experienced Night of Horror?
If so, then please considering taking a moment to share your review below.